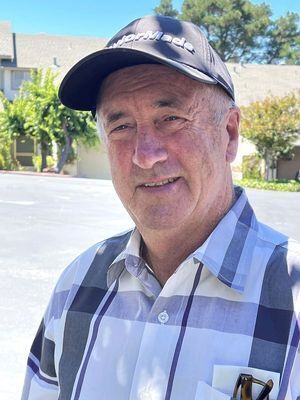 2023 Pinole History Museum Fundraising Dinner
Saturday, October 14
6-10 p.m.
Family Life Center
Valley Bible Church
1477 Willow Avenue
Hercules
"Back to the Rancho" is the theme of this year's Pinole History Museum fundraising dinner, commemorating the 200th anniversary of the 1823 El Pinole Grant to retired Mexican soldier Ygnacio Martínez, who built his Rancho El Pinole adobe homestead on what is now Pinole Valley Park.
The event will feature a scrumptious sit-down catered dinner by Back Forty Texas BBQ and a fabulous raffle and silent auction.
The Pinole History Museum will honor former Councilman and Mayor Pete Murray for his contributions to the city and its history.  Pete served on the Pinole City Councilman from 1992-2020, serving as Mayor seven times. His 28 years on the council is the second-longest tenure of a council member in the city's history, tied with Edward M. Downer, founder of the Bank of Pinole, who served from 1910-1938. Louis Ruff, a mid-20th century merchant, served 33 years (1922-1955).
NEW PLANS TO MAKE THE CITY'S HISTORY AVAILABLE TO OUR RESIDENTS!
With the Faria House not an option for a physical museum, at least not for the foreseeable future, the Pinole History Museum board of directors is refocusing its efforts to make the city's history accessible to our residents.
We will be creating:
• A virtual museum, with dedicated online exhibits;
• A smartphone app that will include a tour of historic sites, homes, businesses, the arts, and people in our city's history, with oral histories and recorded information;
• Pop-up exhibit installations in local businesses and schools. The first exhibit was installed at Mechanics Bank this spring.
This will involve cataloging and digitizing our entire collection of documents, photographs, memorabilia, and artifacts and hiring freelance museum professionals and an app developer.
Museums across the United States and the world have established or are working on establishing a virtual presence as the museum industry adapts to the digital and post-Covid age.
We look forward to seeing you on October 14 and celebrating the history of our city. Tickets are on sale now!
---
RAFFLE AND SILENT AUCTION ITEMS TO DATE
• Oakland Zoo (Family pass for 4)
• Bay Area Discovery Museum (5 passes)
• Walt Disney Family Museum (4 tickets)
• Winchester Mystery House (Tour for 2 adults)
• Oakland A's (4 tickets to a 2024 game)
• San Jose Giants (8 tickets to 2024 game)
• Buena Vista Winery, Sonoma (seated tasting for 4)
• Balletto Vineyards, Santa Rosa (One bottle wine and tasting for four)
• Tahoe Donner (2 lift tickets)
• Costco (gift card)
• Target ( $100 gift card)
• American Conservatory Theater (2 vouchers for preview performance)
• Charles Schulz Museum (6 admission tickets)
• Lawrence Hall of Science (4 passes)
• San Francisco Symphony (2 tickets)
• Fine Arts Museums of San Francisco (4 passes)
• Sue's Place (Three $50 gift certificates)
• China House ($100 gift card)
• Massage by Michelle (Gift certificate for 60-minute massage)
• USS Midway, San Diego (Family Four Pack)
• USS Hornet, Alameda (Family Boarding Pass)
• San Francisco Opera (2 tickets)
• Chardonnay Golf Club, American Canyon (round of golf for four)
• Monarch Bay Golf Club, San Leandro (round of golf for four)
• Oakland Ballet (2 tickets to The Nutcracker)
• Debbie Ojeda (gift basket)
• Paula Harvey ($45 gift certificate, Top Floor Salon)
• Christina Isley ($45 gift certificate, Top Floor Salon)
• Mike LeFebvre (A bounty of Giants bobbleheads: Bruce Bochy, Tim Lincecum, Mike Yastrzemski, and Joe DiMaggio)
• Menchie's Frozen Yogurt (Fro-Yo cake gift certificate)
• Oakland A's (2 tickets to 2024 game)
• Cal Performances (2 tickets)
• SFMOMA (2 tickets)
• Letcher Bros. Auto Repair ($150 gift certificate)
• Grocery Outlet (case of wine)
• Valley Produce Market/Carniceria El Valle (Moctezuma Chocolate Tablets, Macha Gourmet Salsa)
• Safeway ($30 gift card)
• Lucky Supermarkets ($25 gift card)
• Jeff Rubin (wine, baseball memorabilia)
• Norma Martínez-Rubin (children's toys)
• Belinda Espinosa
• Regina collectible music box and music discs (Ruth Hogland)
• 3 antique chairs (Ruth Hogland)
THANK YOU TO OUR TABLE SPONSORS
• Collins Management
• Republic Services
• Mark Porter, financial advisor; Porter, Ritchie & Associates
• Contra Costa Electric
• Pinole Garden Club
• Pete Murray
• Gene Perrin
• Contra Costa County Historical Society 
Our Mission
The Pinole History Museum will enhance the preservation and collection of artifacts that represent Pinole history and culture. Museum exhibits and research opportunities will educate and inspire Pinole residents' community affiliation and civic pride.
Small towns are all about community. The Pinole Garden Club has been beautifying Pinole since 1956.
Read more.

Each year since 2009 the Pinole Historical Society sponsors an essay contest in local schools. The students have great ideas and learn how to be critical thinkers. 
Find Out More.

We worked with the school district to rehabilitate and memorialize the only remnant of a much-revered school.
Read more.
"The Pinole History Museum will be dedicated to the education and pleasure of the public. Behind it will be an endless sea of faces — yours, mine, ours — that will give it life and distinction. We are a composite as varied and enduring as those who contribute artifacts, materials, and efforts.
"The aggregate of social and cultural exhibits and programs will reflect the unique community of Pinole and its environs. As a destination, those who visit will come away enriched with a better understanding of its rich history. Visitors, especially school children, will serve as ambassadors to broadcast the existence of this gem."
Roberta Tim Quan
Donor, ambassador,
friend of the museum