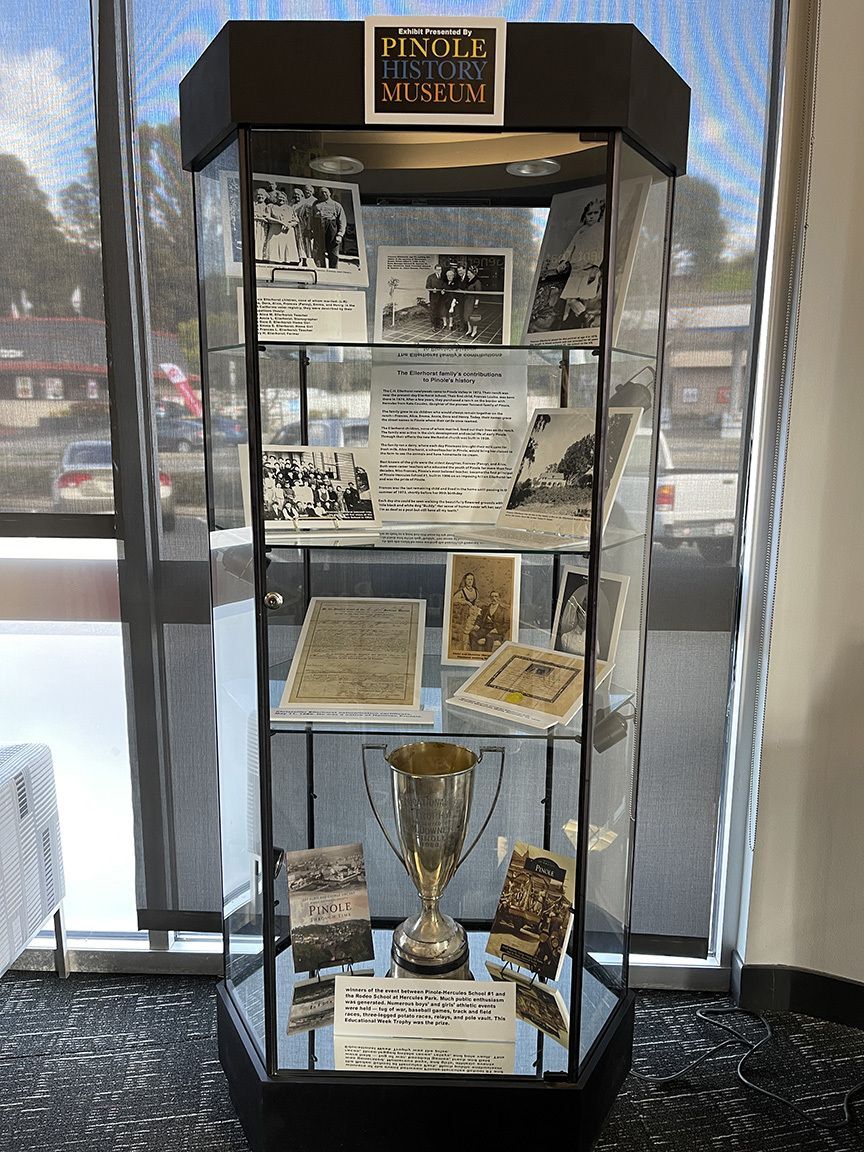 Pinole History Museum installs Ellerhorst family exhibit at Mechanics Bank
While the long-term goal of the Pinole History Museum is to establish a permanent home, one objective that's always present is to stay true to our mission, which is to "enhance the preservation and collection of artifacts that represent Pinole history and culture."
It's with great pleasure that we announce the installation of our first pop-up history exhibit at Mechanics Bank in the Pinole Valley Shopping Center.
This exhibit explores the history of one of the most significant families of 20th-century Pinole — the Ellerhorsts.
It's the first of several exhibits the Pinole History Museum plans to install in schools and businesses throughout the community.
Please stop by Mechanics Bank to view the exhibit, and let us know your ideas about future exhibits as we continue to fulfill another part of our mission: "to educate and inspire Pinole residents' community affiliation and civic pride."
Our email is info@PinoleHistoricalSociety.org. We hope to hear from you.
Thanks to Belinda Espinosa, Diane Dyer, Jo Ann Gannotti, and Jeff Rubin, volunteer board members of the Pinole History Museum and Pinole Historical Society, for setting up this exhibit. And to Matthew Pourabedin, who sold us the display case when he closed his El Sobrante gift shop, and showed us how to fit the glass shelves.
---
Our Mission
The Pinole History Museum will enhance the preservation and collection of artifacts that represent Pinole history and culture. Museum exhibits and research opportunities will educate and inspire Pinole residents' community affiliation and civic pride.
Small towns are all about community. The Pinole Garden Club has been beautifying Pinole since 1956.
Read more.

Each year since 2009 the Pinole Historical Society sponsors an essay contest in local schools. The students have great ideas and learn how to be critical thinkers. 
Find Out More.

We worked with the school district to rehabilitate and memorialize the only remnant of a much-revered school.
Read more.
"The Pinole History Museum will be dedicated to the education and pleasure of the public. Behind it will be an endless sea of faces — yours, mine, ours — that will give it life and distinction. We are a composite as varied and enduring as those who contribute artifacts, materials, and efforts.
"The aggregate of social and cultural exhibits and programs will reflect the unique community of Pinole and its environs. As a destination, those who visit will come away enriched with a better understanding of its rich history. Visitors, especially school children, will serve as ambassadors to broadcast the existence of this gem."
Roberta Tim Quan
Donor, ambassador,
friend of the museum