PINOLE CITY COUNCIL VOTES TO RENOVATE THE HISTORIC FARIA HOUSE!
The next step is to get approval for its use as a museum and negotiate a lease between the City of Pinole and the Pinole History Museum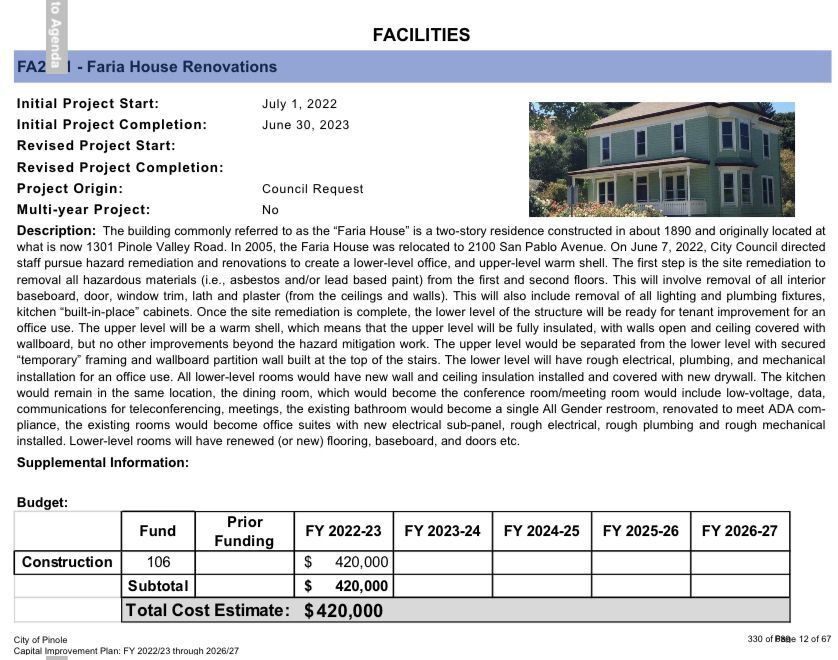 On June 7, 2022, the council approved hazard remediation and renovations of the Faria House to create a lower-level office and upper-level warm shell — a partial renovation.
The work is scheduled to be completed by June 2023.
The council has not decided for what purpose the Faria House will be used. We are continuing to request the negotiation of a lease to use the Faria House — at least the first floor —as a museum.
What Can You Do To Help create the Pinole History Museum?
Send an email to Pinole City Council members and/or publicly state that you support the Pinole History Museum at a council meeting (1st and 3rd Tuesdays of the month), Pinole City Hall, 2131 Pear Street. Meetings are open to the public and available on Zoom.
• Mayor Vincent Salimi: vsalimi@ci.pinole.ca.us
• Mayor Pro Tem Devin Murphy: dmurphy@ci.pinole.ca.us
• Councilmember Norma Martínez-Rubin: nmartinez-rubin@ci.pinole.ca.us
• Councilmember Anthony Tave: atave@ci.pinole.ca.us
• Councilmember Maureen Toms: mtoms@ci.pinole.ca.us
Our Mission
The Pinole History Museum will enhance the preservation and collection of artifacts that represent Pinole history and culture. Museum exhibits and research opportunities will educate and inspire Pinole residents' community affiliation and civic pride.
Small towns are all about community. The Pinole Garden Club has been beautifying Pinole since 1956.
Read more.

Each year since 2009 the Pinole Historical Society sponsors an essay contest in local schools. The students have great ideas and learn how to be critical thinkers. 
Find Out More.

We worked with the school district to rehabilitate and memorialize the only remnant of a much-revered school.
Read more.
"The Pinole History Museum will be dedicated to the education and pleasure of the public. Behind it will be an endless sea of faces — yours, mine, ours — that will give it life and distinction. We are a composite as varied and enduring as those who contribute artifacts, materials, and efforts.
"The aggregate of social and cultural exhibits and programs will reflect the unique community of Pinole and its environs. As a destination, those who visit will come away enriched with a better understanding of its rich history. Visitors, especially school children, will serve as ambassadors to broadcast the existence of this gem."
Roberta Tim Quan
Donor, ambassador,
friend of the museum