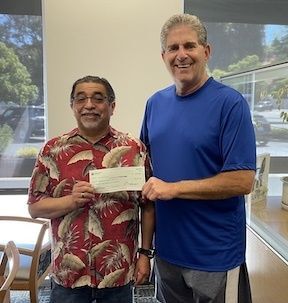 Former Pinole City Councilman and Mayor Tim Banuelos (left, with PHM President Jeff Rubin) donated the balance of his campaign account funds — $2,487.80 — to the Pinole History Museum. "The history of Pinole is important to everyone," he says. "I've been here a long time, and there are a lot of things that have been lost, so it's really important to preserve what we have now. "We [Tim and Kim, his wife] hope this pushes us a little closer to the opening of a museum in the near future."
YES, I want to MAKE HISTORY HAPPEN by donating to the establishment of the Pinole History Museum.
My donation will help the museum enhance the preservation and collections of artifacts that represent Pinole's history and culture, and contribute to educating Pinole students about their city's history, which is lacking in public schools. 
If you prefer to donate via check: Please make checks payable to PINOLE HISTORY MUSEUM and mail to Pinole History Museum, P.O. Box 285, Pinole, CA 94564.
*With a gift of $1,000 or more your name will be placed on the museum's Wall of Honor.