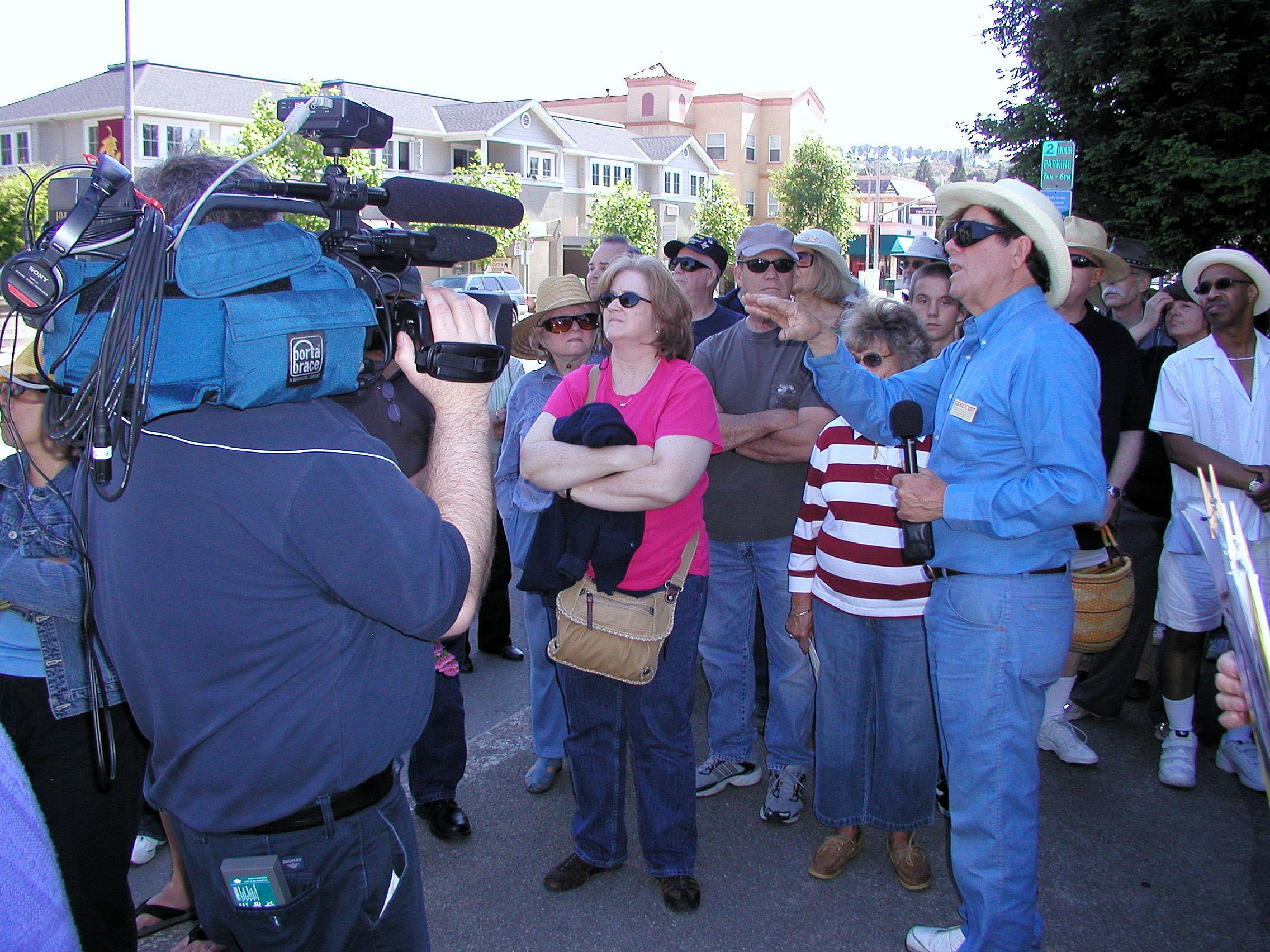 George Vincent receives Lifetime Historian Award at Pinole History Museum dinner
George Vincent wrote in Images of America: Pinole about the cycle of life in Pinole in the early part of the 20th century:
"A person was brought into the world by Dr. Manuel Fernandez, attended Pinole-Hercules School #1, married a local sweetheart, worked at the Hercules Powder Company or Union Oil Company, and left the world via undertaker Charlie Ryan."
What he left out is that most people who lived in 20th century Pinole – and for that matter, many in the 21st century – were taught by someone in the Vincent family. First, it was his mother, Emily Scanlan Vincent, who taught for 40-plus years, and then by George for 42 years.
Here we are, all these years later, and we are still being taught by George Vincent – whether it's by reading one of the magnificent local history books he's written, participating in one of his walking tours of historic downtown Pinole, been a fourth-grade student in a Pinole school and listened to one of his Pinole history programs, or reading his thoughtful, melodic stories in the PHS newsletter, Newsbriefs.
George is a master storyteller, and it's not an exaggeration to say that Pinole would have little recorded or written history if it were not for George Vincent.
It was a pleasure, and an honor, to present George with the society's Lifetime Historian Award at the Pinole History Museum's September 24 Fundraiser and Dinner at Valley Bible Church in Hercules.
SALUTING OUR ALL-VOLUNTEER BOARD MEMBERS
The combined boards of the Pinole Historical Society and Pinole History Museum worked for months preparing for the museum dinner, soliciting raffle and silent auction prizes, assembling the prizes, selling tickets, distributing flyers, doing publicity, and planning every aspect of the onsite event.
We are already discussing improvements and enhancements for the 2023 dinner so we can make it a signature event for Pinole.
Anyone who has worked on producing an event of this size knows how much work is involved. I am extremely grateful to the all-volunteer board members for the many hours they devoted to making the dinner a success – and helping the museum raise more than $10,000, after expenses:
Pinole Historical Society: Jo Ann Gannotti, Mary McMains, Carol White, Pete Murray, Norma Martínez-Rubin, and Jeff Rubin. Pinole History Museum: Belinda Espinosa, Alex Jason, Cyndie Sprinkel, Diane Dyer, and Jeff Rubin.
---
WE THANK THE PINOLE HISTORY MUSEUM DINNER RAFFLE AND AUCTION DONORS
Oakland A's, San Francisco Giants, San Jose Giants, San Jose Earthquakes, San Francisco 49ers, Stanford football, Fine Arts Museums of San Francisco, San Francisco Museum of Modern Art, Walt Disney Family Museum, Lawrence Hall of Science, Turtle Bay Exploration Park, USS Midway Museum, San Francisco Opera, San Francisco Symphony, American Conservatory Theater, Buena Vista Winery, Hafner Vineyard, McKahn Family Cellars, Duckhorn Vineyards, Tahoe Donner, The Citizen Hotel, Travel Pledge, Mike LeFebvre, Dr. Eric Mariotti, Melinda Mariotti, Jo Ann Gannotti, Mary McMains, Warner McMains, Sue's Place, Target, Republic Services, Costco Letcher Bros. Auto Repair, Massage by Michelle, Menchie's Frozen Yogurt, Debbie Ojeda, Pinole Rotary, Cari Jo (Mariotti) Galloway, Earl Combs, House of Lilith (Angela Schneider), Belinda Espinosa, Jeff Rubin, American Legends Sports Cards, Top Floor Salon (Paula Harvey and Christina Isley), Safeway, Lucky Supermarkets, China House, Sam's Doghouse, The Habit, Chipotle, Ace Hardware, Michaels, Trader Joe's, Sprouts, Tina's Place, The Bear Claw, Rhonda Purcell, Cecilia Combs, The New Deli, Oakland Zoo, Pinole Packing & Postage, Rick Chalk State Farm Insurance, Brian Contestable, WestCAT, Crocketts Premier Auto Body, Lino Amaral State Farm Insurance, Big 5 Sporting Goods, Lisa Melgarejo, Norma Martínez-Rubin, Catherine Rasmussen, Vanessa Wright, Diane Dyer, Kathy Edwards, Claudette and Tim Swanson.
TABLE SPONSORS:
Collins Management, Contra Costa County Historical Society, Contra Costa Electric, The Faria family, Mechanics Bank, Republic Services, Darrel Jay Tucker, George Vincent family
Our Mission
The Pinole History Museum will enhance the preservation and collection of artifacts that represent Pinole history and culture. Museum exhibits and research opportunities will educate and inspire Pinole residents' community affiliation and civic pride.
Small towns are all about community. The Pinole Garden Club has been beautifying Pinole since 1956.
Read more.

Each year since 2009 the Pinole Historical Society sponsors an essay contest in local schools. The students have great ideas and learn how to be critical thinkers. 
Find Out More.

We worked with the school district to rehabilitate and memorialize the only remnant of a much-revered school.
Read more.
"The Pinole History Museum will be dedicated to the education and pleasure of the public. Behind it will be an endless sea of faces — yours, mine, ours — that will give it life and distinction. We are a composite as varied and enduring as those who contribute artifacts, materials, and efforts.
"The aggregate of social and cultural exhibits and programs will reflect the unique community of Pinole and its environs. As a destination, those who visit will come away enriched with a better understanding of its rich history. Visitors, especially school children, will serve as ambassadors to broadcast the existence of this gem."
Roberta Tim Quan
Donor, ambassador,
friend of the museum