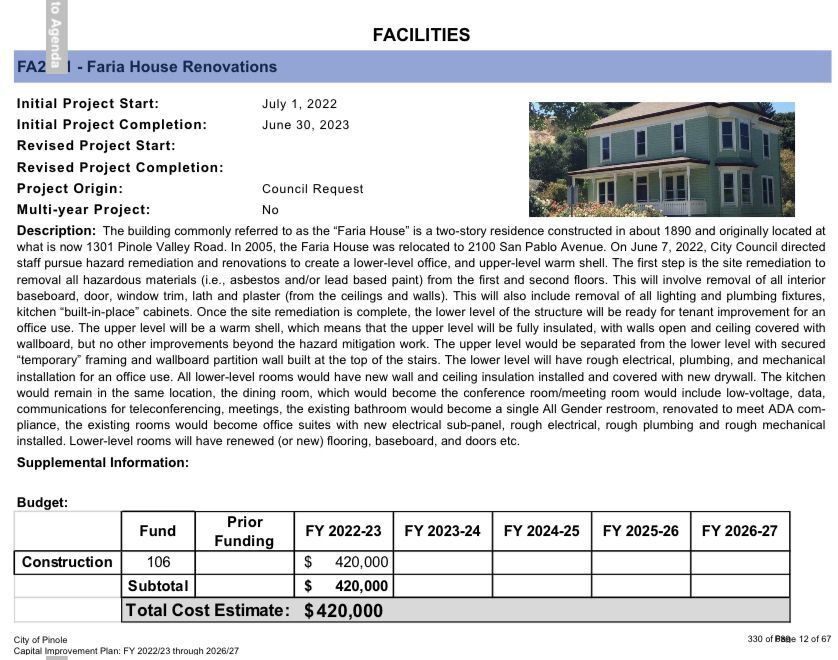 The next step is to get approval for its use as a museum and negotiate a lease between the City of Pinole and the Pinole History Museum
On June 7, 2022, the council approved hazard remediation and renovations of the Faria House to create a lower-level office and upper-level warm shell — a partial renovation.
The work is scheduled to be completed by June 2023.
The council has not decided for what purpose the Faria House will be used. The Pinole History Museum (PHM) board of directors is continuing to ask the council to designate the Faria House as a museum site and to negotiate a lease with the PHM to use the Faria House — at least the first floor —as a museum.
What Can You Do To Help create the Pinole History Museum?
The members of the Pinole City Council need to hear from the community that a museum in the Faria House would be a welcome and worthwhile addition to the city.
You can help by sending an email to all of the council members — or publicly state that you support the Pinole History Museum at a council meeting (1st and 3rd Tuesdays of the month), Pinole City Hall, 2131 Pear Street. Meetings are open to the public and may be viewed and are open for comment on Zoom.
• Mayor Vincent Salimi: vsalimi@ci.pinole.ca.us
• Mayor Pro Tem Devin Murphy: dmurphy@ci.pinole.ca.us
• Councilmember Norma Martínez-Rubin: nmartinez-rubin@ci.pinole.ca.us
• Councilmember Anthony Tave: atave@ci.pinole.ca.us
• Councilmember Maureen Toms: mtoms@ci.pinole.ca.us