Pinole Historical Society program: "The Short-Lived History of Bay Area Shoreline Art"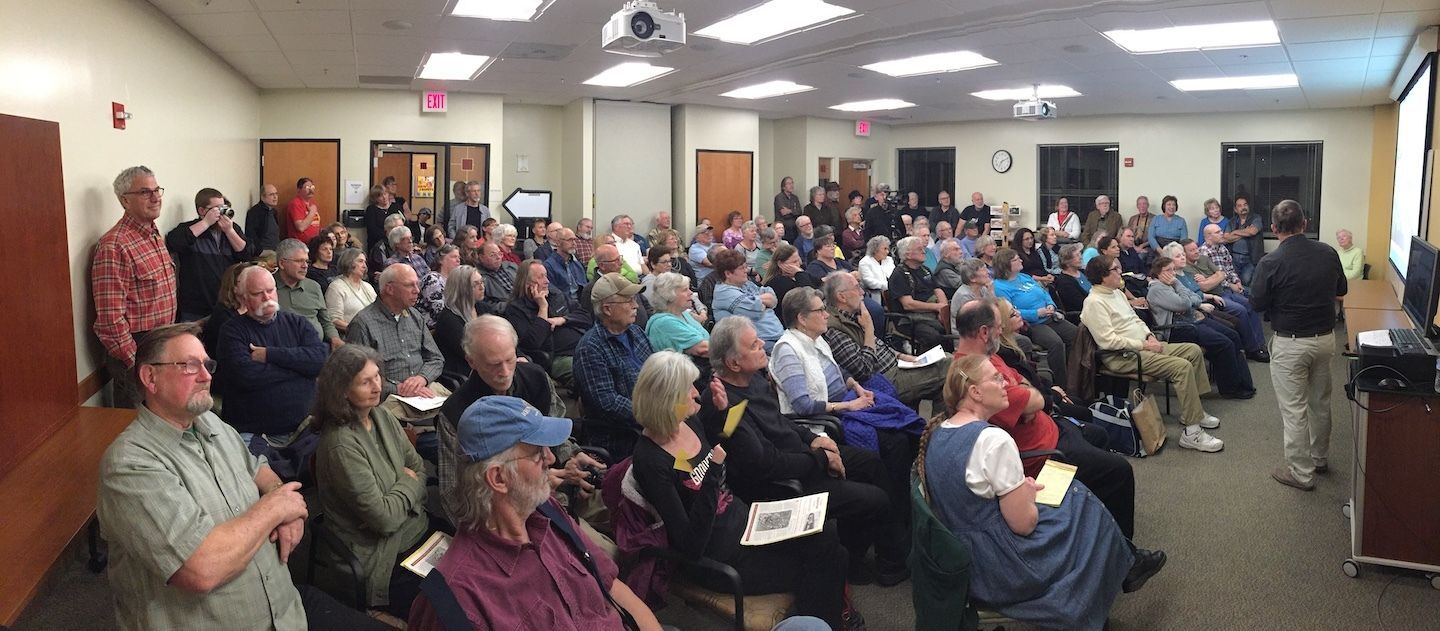 Cal State University East Bay professor John Robinson (photo above at his last PHS program) returns to present his fourth program for the Pinole Historical Society.
John's previous programs for the Pinole Historical Society include:

• The Bay Bridge Troll

• The Lost Cities of the East Bay

• Lift Bridges of the Bay Area
Many of us Bay Area residents can remember the experience of seeing the Emeryville Mudflat sculptures in the 60s, 70s and 80s, either while driving along the I 80 corridor heading into San Francisco or heading to 880 and all points South. You couldn't get to the Bay Bridge with passing by the sculptures. During morning commute, when traffic slowed, one had time to really look and appreciate them.
The artistic value of these sculptures was dubious But, they were always interesting and often quite funny. They were constructed by locals who wanted to express their feeling about public events, sometimes they were just whimsical. They were constructed from driftwood, old tires, and other found debris they drifted in with each high tide. There were dinosaurs, giant fish, political messages. The theme of the art seemed to changes over the decades as the political mood of the country changed.
An early article from Time Magazine 1964 described the phenomenon like this: "Most of the derelict sculptures wash away with the tide. But some are such masterpieces that they regularly cause crack-ups by gawking drivers on the nearby freeway. One is a 12-ft. gallows with the 13 steps and a hanging effigy, its neck snapped at a medically correct angle. Another is a dinosaur and pterodactyl combination well planted in the muck."
By the mid-80s, Caltrans began removing the sculptures, claiming they were an ecological disruption and the source of ground and water contamination. (Although the people were merely rearranging the junk that was already there!)
Eventually the area was fenced off and a crew of workers tore the few bedraggled sculptures down and removed them completely. The memory of the Emeryville art has faded. But not the impulse to turn junk into art. Currently the phenomenon survives at the Albany Bulb near Golden Gate Fields. And closer to home along the Pinole Shoreline where energetic beach combers are starting to collect the flotsam and jetsam and create interesting and short-lived creations for the rest of to enjoy.
Pinole Historical Society programs are free to members and the public. Please join as we resume in-person meetings for the first time since February 2020.
For more information, call (510) 724-9507 or e-mail info@pinolehistoricalsociety.org